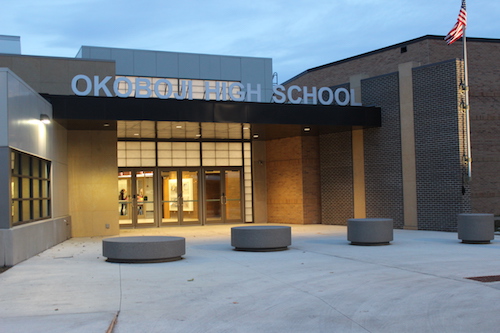 Welcome to Okoboji High School. At OHS we are Pioneering Pathways for Every Student by building on the outstanding foundation and diverse learning opportunities available to students at Okoboji Elementary and Middle Schools through high expectations, caring and supportive teachers, world class learning opportunities, and a wide variety of extracurricular opportunities.
High Expectations - We speak of, model, and expect Pioneer Pride from every member of our learning community. Pioneers hold themselves to high standards in all aspects of life. Whether it is in academics, extracurriculars, or just in the way we treat one another, Pioneers lead the way.
Caring and Supportive Staff - Our staff believes that every member of this learning community is important and deserving of respect and care. Our staff comes to school each day looking for ways to positively impact the lives of our students and families and truly care about our students both inside and outside the building and beyond. Students who have graduated often come back to thank teachers and staff members who made a positive difference in their lives.
World Class Learning Opportunities - OHS is committed to preparing students for a productive life in a changing world. This means a focus on constant improvement, integration of technology to support learning, and ever changing opportunities. Some of these include new courses in computer coding, engineering, and more. In order to be successful, students need knowledge and the skills to apply it. OHS is focused on Universal Constructs such as creativity, complex communication, adaptability, productivity, collaboration, and other skills that will enable students to apply their knowledge to new and changing situations throughout their adult lives.
Wide Variety of Extracurricular Opportunities - Our students are encouraged to get involved in a wide variety of sports, fine arts such as speech, debate, and music, and school clubs and organizations. More than 85% of our students are involved in our extracurricular programs. Whatever a student's passion, they can plug into a team or organization here at OHS. Our size also allows students to explore multiple passions in many different areas with
We are very proud of the past, present, and future of Okoboji High School, and even more proud of the students, families, and community we serve. We would love to help you arrange a visit to learn more. We believe you too will see why we are proud to be Pioneers!
Yours in Education,
Brian Downing
Okoboji High School Principal