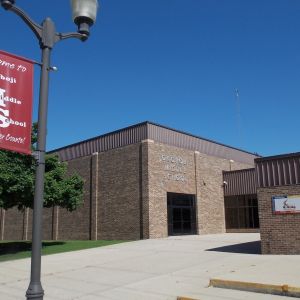 Okoboji Middle School is a place where we are Pioneering Pathways for Every Student. We focus on giving EVERY student access to a world-class education in small-town Iowa. We do this in three primary ways:
We employ staff who care deeply about the lives and learning of each student. From the classroom to the kitchen, we believe positive relationships between our staff and students form the foundation for all student learning.
We focus on preparing students with the competencies and skills needed to thrive in the world beyond our school. All teachers use a common language focused on developing the following five competencies in all our students:
Critical Thinking: The ability to incorporate key information to develop solutions to complex problems
Productivity & Accountability: Demonstrate initiative, self-direction, and personal responsibility to create quality results.
Complex Communication: Successful sharing of information with a clear message.
Collaboration: Respectfully working within a group to achieve a common goal.
Growth Mindset: The incorporation of creativity, unique thoughts, curiosity, and innovation in learning.
We focus on creating learning experiences to prepare our students to solve the problems of tomorrow. Nowhere is this more exemplified than in our Midmester Academy. Through our Midmester Academy, students spend over 120 days throughout their middle school career engaging in 24 real-world, interdisciplinary, problem-based courses. Their experiences culminate in an 8th Grade Capstone Project, where students showcase their middle school learning to a panel of peers, family, and faculty.
Please click HERE to access our Midmester Academy Handbook and Course Booklet.
We hope you will take to time to peruse the Midmester Academy Handbook Course Booklet and navigate our website to learn more about our school. Most importantly, we want you to know that if you are considering Okoboji Schools for your family, we would welcome the opportunity to give you a guided tour of our facilities, which will include a detailed exploration into the programming we offer our students. Please contact any of our school offices to set up a tour.
Yours in Education,
Ryan Cunningham
Okoboji Middle School Principal
Visit OMS website here